Camorra
-------------------------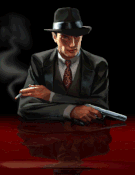 Csatlakozott

: 2018. Mar. 26.


Kitüntetés

:
Neme

:




Hozzászólások száma

: 213


Születésnap

: 1981. Sep. 03.


Életkor

: 37


Tartózkodási hely

: Camorra


Hobbi

: Forum


Humor

: Van Mindig :)


Pontok

: 672


Hírnév

: 10


Tárgy: Adult Filmmakers Flood Federal Courts With Copyright Suits 5/11/2018, 19:03

---

Strike 3 Holdings LLC and Malibu Media LLC — two porn producers with a penchant for online film piracy lawsuits — were the driving force behind a roughly 400 percent jump in copyright infringement filings in April.

Federal courts throughout the U.S. saw copyright infringement complaints rise from 207 to 614 from April 2017 to April 2018, according to Bloomberg Law data. Copyright lawsuit filings shot up 42 percent from March.

Strike 3 and Malibu kept up their copyright enforcement streak last month by handing in 195 filings and 159 filings, respectively. Strike 3 filed 396 cases and Malibu filed 291 in the first quarter of 2018 ended March 31, accounting for nearly half of all new U.S. court copyright litigation.

Strike 3 kicked off its enforcement campaign in late 2017. Malibu Media, a top filer of complaints for the last six years, bounced back in 2018 after months of inactivity.

Entertainment companies typically sue for infringement over peer-to-peer file-sharing networks. They identify users through internet protocol addresses and serve lawsuits to unidentified defendants, called "John Does" in legal actions.

Bodyguard Productions Inc. was another top filer in April, with 24 complaints related to downloads of its action-comedy "The Hitman's Bodyguard," featuring Ryan Reynolds and Samuel L. Jackson. The film company is a unit of Millennium Studios, which has sued for online piracy of its action films such as "Mechanic: Resurrection" and "Boyka: Undisputed."

The U.S. District Court for Central District of California, which covers the movie industry hub of Los Angeles, saw the most copyright infringement complaints, with 91 filed in April.